Ambergate pupils awarded Blue Peter Badges!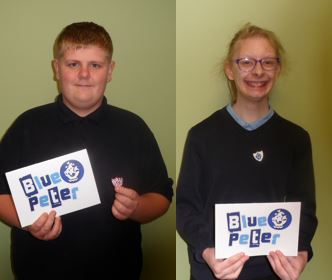 Back in July, two pupils from Ambergate school applied for Blue Peter badges.
Ellie Clark created a beautiful piece of artwork and wrote an amazing letter to the show explaining why she believed she deserved to be awarded a badge. Ellie said 'I felt really excited and happy about getting my Blue Peter badge'.
Leon Wells applied for a Blue Peter Sports badge. To qualify for this badge Leon needed to try a sport he had never tried before. Leon tried golf and surprised himself as to how good he was at it on his very first attempt! After a long wait these two pupils are thrilled to have received their well-deserved badges and are wearing them with pride. Leon said "It is the first one I have ever had so I am really happy about it!'
Well done to both Ellie and Leon for getting your badges!