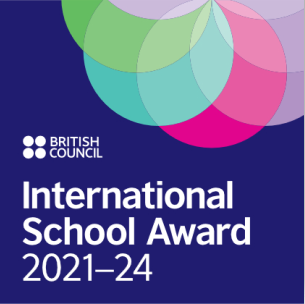 The International School Award (ISA) is a prestigious accreditation scheme, managed by the British Council. The Award recognises and celebrates schools that are committed to developing international partnerships which enrich the curriculum and help young learners to become global citizens.

The 'International School Award' celebrates the achievements of schools that do exceptional work in international education, so that young people gain the cultural understanding and skills they need for life and work in today's world.

The impressive selection of international work includes a wide-ranging global curriculum, extensive and rich partnership work with international schools, and a key focus on shared global issues.

GANF was successful in this accreditation in the Summer of 2018 and reaccreditation has was awarded in September 2021 to maintain this status.

As a Fellowship we look at the many ways we can support our pupils to learn about what it means to be a global citizen. We have a selection of projects running across the schools and constantly monitor the impact they have on how pupils' see the world and their place in it.

Current Projects
Annually, GANF pupils in Upper School get the opportunity to visit our German partnership school, KBZO, on an exchange visit for a fortnight (1 week in Germany and 1 week in England) to compare what life and culture is like. Microsoft TEAMS sessions are arranged to support the transition to this and allows pupils to ask and answer questions to each other's school.

We continue to keep our relationship with the local Rotary Clubs to create gift shoe boxes for disadvantaged families throughout the year. Recently, we were able to support the Rotary club donate books to Africa.

GANF regularly engages in the UNICEF Article of the Week and British Values to discuss world issues and current affairs. This allows for open discussion, through their preferred method of communication, and activities are planned to enrich their knowledge of our wider world.

Our Arts Mark project supported our world work with our Ghanaian partnership school, Multikids Academy. A unity symbol was created to share our partnership and continued support with each school. A staff member was able to volunteer recently and share her stories with colleagues and pupils alike, at Sandon.