Autism Accreditation
The National Autistic Society Autism Accreditation is the UK's only autism-specific quality assurance programme of support and development for all those providing services to autistic people. It is a way for organisations to show they offer excellent support to autistic children and adults.
The accreditation is a three year process of reflection and strategic development, focused on developing the whole staff's understanding of Autism to be able to best support each individual child to reach their potential.
Ambergate Sports College and Sandon School have both achieved their accreditation.

There are lots of benefits of being accredited, including:
A more autism-focussed school
Increased expertise in supporting autistic children
Foundation for informing strategic planning
Better outcomes for autistic children and those who benefit from the relevant approach
Reassurance for families/carers
A genuinely personalised service
Ongoing development for the service/school
An in-depth assessment took place at Ambergate Sports College & Sandon School, with outcomes measured against specific criteria to be met and demonstrated. This includes the reviewers observing lessons, analysing documentation, and listening to pupil and parent voice about our school.
Autism Statement – Autism and GANF
Pupils with an Autistic Spectrum Condition (ASC) are included in every class throughout GANF. In order to ensure that pupils on the autistic spectrum are able to access the broad, balanced and meaningful curriculum that we offer, their individual strengths and areas of difference are taken in to account.

The Autism Spectrum is diverse, but all people with Autism have common areas of difference as well as individual areas of strength, need and interest. There are four developmental areas for diagnosis:
An impairment/ difference in communication which affects their ability to understand, and use, all aspects of verbal and non-verbal communication. This includes facial expression, gesture, body language and social timing in addition to speech.
An impairment/ difference in social relationships. This will impact on how they interact with others, play and build relationships. Unwritten social rules may be problematic and support may be needed to communicate their own emotions and understand the feelings or needs of others.
A difference in how they process information, which will impact on their attention, interests and how they learn. They may have a wonderful and extensive knowledge of special interests but struggle with changes to routine or the ability to transfer skills/ They may experience difficulties with Social Imagination despite having a great imagination generally.
Sensory processing differences/ difficulties which can affect how they take in and perceive sensory information from the 5 senses, plus the body (proprioception) awareness system and the balance (vestibular) system.
An Autism Friendly Classroom
Our school strives to ensure that each classroom is organised in a way that is structured and meaningful for pupils with an ASC. Due to the diverse needs of pupils across Sandon, classrooms may differ in how they are set out.
At Sandon we aim to embody the rationale of the SPELL approach developed by The National Autistic Society. The approach has been developed to overcome or reduce the potentially disabling effects of autism by providing a broad and balanced curriculum, giving extra help in each of the areas of impairment.

SPELL
The SPELL framework recognises the individual and unique needs of each young person and emphasises that all planning and intervention need to be organised on this basis.
Structure
Structure makes the world a more accessible and predictable place. Structure can aid personal autonomy and independence by reducing dependence on prompting from others. The environment and processes are modified to ensure individuals know what is going to happen and what is expected of them. This can also aid the development of flexibility by reducing dependence on rigid routines. Structure plays to the strengths of a sense of order and preference for visual organisation commonly associated with an ASC. Clear, consistent and predictable classroom routines should be present.
Positive (approaches and expectations)
Having high but realistic expectations based on careful assessment which identifies the strengths and individual needs of the person, their level of functioning and an assessment of the support they will need.
Empathy
Starting from the perspective of the individual and gathering insights into how they see and experience the world, knowing what it is that motivates or interests them and also frightens, preoccupies or otherwise distresses them. Respecting the experience underpins any successful approach, develops communication and reduces anxiety.
Low arousal
Aiming for approaches and the environment to be calm and ordered in such a way as to reduce anxiety and aid concentration. There should be as few distractions as possible. Particular attention is paid to potentially aversive or distracting stimuli, for example noise levels, colour schemes, odours, lighting and clutter. Classrooms should be as distraction free as possible. Rooms should be clearly laid out with designated areas for specific activities wherever possible.
Links
Strong links between the various components of the child/ young person's life promotes and sustains essential consistency. Open links and communication between people (e.g. parents, teachers and outside agencies) provides a holistic approach and reduces the possibility of unhelpful misunderstanding or confusion.
Approaches and Interventions
In order to meet the needs of all pupils we use an eclectic mix of established and researched approaches and interventions; drawing on best practice and continuously monitoring and evaluating their use.

We use a child-centred approach which addresses the specific needs of the individual child. Different children may need a different 'mix' of the best-known approaches to meet their needs.

Our approach includes:
The development of language and communication
A range of therapy interventions
TEACCH
Behavioural approaches
Social scripts and stories
Physical activity
Sensory approach
The development of language and communication
We use a range of communication systems with the pupils. This includes Picture Exchange Communication System (PECS), Communicate in Print, intensive interaction, Makaton signing and Proloquo2Go. Identified pupils have a Communication Passport that is created by parents/carers and teachers to identify how the pupil shows when they are happy, sad, hungry, angry etc and their likes and dislikes.

TEACCH (Treatment and Education of Autistic and related Communication Handicapped Children)
The key principles of TEACCH e.g. structure and visual information are practised throughout the school to enable pupils to know what they are doing next, when it will be finished and what will happen when it is finished. Individual and class timetables are used to support pupils. Aspects of this approach involve the use of minimum distraction work areas where pupils can systematically work on skills.

Implementation of TEACCH varies across the school according to the needs of classes or individuals. Some classrooms are clearly organised along TEACCH principles with individual timetables and workstations. In other classes individuals may use timetables for some elements of their learning e.g. making choices during unstructured times or specific transitions.

Behavioural Approaches
Behaviour is a means of communication and we endeavour to understand what the child is aiming 'to say' through their behaviour. Specific strategies are used to reduce anxiety and promote feelings of well-being.

Some pupils have individual behaviour plans that are regularly reviewed and updated. All teachers and teaching assistants are trained in positive handling (Team Teach).

Any sanctions used should be related to the behavioural targets of the pupil and focussed on the behaviour – not on the child as a person. They should also be appropriate to the level of understanding of the individual and be perceived as a sanction by the individual concerned.

All of our children have learning difficulties which impact on how they learn to behave. With the right support and intervention children and young people can learn to improve their behaviour and manage well.

Children with profound and complex needs will need a personalised approach to behaviour management and consideration must be given to sensory needs, pain thresholds and levels of stimulation and engagement. Personalised learning approaches mean that we meet each child or young person at their point of development – if we are able to meet them at their point of need, it is more likely that challenging or unhelpful behaviour will decrease or stop.

At Sandon School we use Restorative Practice which includes the use of informal and formal processes that proactively build relationships and a sense of community to promote good behaviour and self-discipline.

Our response to challenging behaviour may depend on the pupil's individual needs, therefore we should always take a personalised approach following the pupil's behaviour plan and the school's ethos for behaviour.
Physical Activity
Physical activity is encouraged within structured PE lessons as well as Sensory Circuits and movement breaks.

Social Scripts and Stories
These aim to prepare pupils and therefore reduce anxiety in unfamiliar situations or when preparing for a certain event. They also inform the child about social expectations and the benefits of conforming to these.

Sensory Approach
A sensory approach is used to engage pupils in their learning through adapting the environment, seating, as well as the activities to support individual learner needs.

Training
Staff across Sandon are trained in autism specific practices and interventions such as; PECS, TEACCH, Social Stories, Team Teach and Intensive Interaction. All staff have attended internal training on autism-awareness and good practice, and the use of Makaton signing. School staff are kept up to date with current research relating to the education and well-being of pupils with an ASC through regular updates, training opportunities and access to e-learning.
Sensory Integration
Sensory integration is the ability to process, interpret and use appropriately, information received through the senses – tactile, auditory, visual, olfactory, gustatory, vestibular and proprioception. Processing is via the central nervous system and organised by the brain. For some children sensory integration development is atypical, these children may experience difficulties in learning, motor skills and behaviour.

Sandon School provides a multi-sensory learning environment in which staff assist and enable pupils to enjoy learning, through providing experiences that contribute to the development of sensory integration.

Sensory Circuits
Sensory Circuits take place around the school and the equipment is available throughout the day. The sensory circuit has three areas – alerting, organising and calming – and through following the circuit children are helped to refine and focus their concentration in readiness for the day's learning.

Classroom strategies to promote sensory integration:
Environment: The low arousal and calm, ordered classroom environment assists pupils in maintaining a calm, organised frame of mind. The use of visual supports reduces the anxiety felt by many pupils who may be overwhelmed by noise and chatter, and ear defenders are available for pupils who require them.

Communication: communication underpins all social interactions and comprehension is vital for cognitive learning. Specific speech and language programmes are carried out at Sandon, but communication targets are also integrated into the fabric of classroom activity.

Posture: good sitting is promoted at all times and some pupils have seating systems that have been provided through consultation with the OT before use.

Visual: the classroom environment is low arousal, calm colours, tidy surfaces and minimalist. There is a consistent application of CIP and PECS to aid learning and to provide instructions/ labels and support behaviour. Spoken language is reduced and verbal prompting is used – children with an ASC respond to visual support more readily than lots of spoken language, especially when they are anxious or stressed.
ASC Survey
As part of Ambergate's upcoming Autism Accreditation please click here to view the ASC Survey information
How sensory sensitivity affects behaviour
Sometimes, a person with an ASC may behave in a way that you wouldn't immediately link to sensory activities but this may be the underlying cause…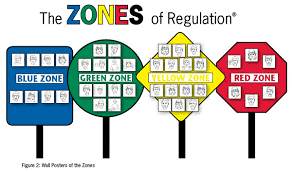 Zones of Regulation at Ambergate
We are launching the Zones of Regulation throughout the whole school at Ambergate Sports College. We want to teach all of our pupils good coping and regulation strategies so they can help themselves when they experience anxiety and stress.
At GANF we recognise the importance of promoting positive mental health and emotional wellbeing to our pupils and their families. We aim to empower our pupils to be able to regulate their emotions. By implementing the Zones of Regulation curriculum we aim to teach our pupils to identify emotions in themselves and others and provide them with strategies to help regulate their emotions and improve their wellbeing.
The Zones of Regulation is a range of activities to help develop skills in the area of self-regulation. Self-regulation is defined as the best state of alertness for both the body and emotions for the specific situation.
The Zones of Regulation is a curriculum based around the use of four colours to help children self-identify how they're feeling and categorise it based on colour. The curriculum also helps children better understand their emotions, sensory needs and thinking patterns. The children learn different strategies to cope and manage their emotions based on which colour Zone they're in, as well as developing empathy by considering how their behaviours can impact upon the feelings of those around us.
Everyone will experience all Zones at one point (even adults) and there are no good or bad Zones – however our success in regulating our emotions depends on us recognising our emotion, understanding it and putting a support strategy in place.
Please read our Parents' Guide to the Zones of Regulation at the bottom of the page. If you have any questions please ask your child's class teacher.
Parent Guide