Art Therapy at GANF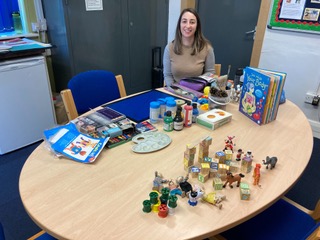 Art Therapy is now being offered at Ambergate. It is our hope to extend this to Sandon in the future.
What is Art Psychotherapy?
Art Therapy offers the opportunity for any individual to explore, reflect and understand their feelings in relation to their current circumstances and past experiences.
By engaging in the creative art making process in a safe and confidential space, a trusting therapeutic relationship between the therapist and client can develop. Many individuals find it hard to talk about difficult life experiences, and the art making process acts as another form of communication, to explore conscious and unconscious concerns, as well as by talking.
The process can nurture change and growth, improving the individuals social, emotional and mental well-being. The overall aim is to work holistically, directed by the needs of the child and any themes that arise in the sessions, to work towards a greater understanding and acceptance of themselves.
There is no requirement to have previous experience or skill in art making, because Art Therapy is about the process of creating, rather than the outcome.
Why Art Psychotherapy in Education?
Art Therapy can be used as a tool to help children access the national curriculum and succeed in school. Research has shown that when children are experiencing emotional difficulties, they find learning challenging.  Art Therapy as a form of early intervention can assist with a pupil's psychological, social and educational development.
In 2020 an Art Therapy study in education evidenced how this safe space supported pupils with better engagement in school, peer and teacher relationships and self-expression (McDonald & Holttum). Children in the study shared their thoughts about their experience of Art Therapy;
"If you are angry Art Therapy can help you calm down…seriously, art can help you to think!"
"In Art Therapy, children make and think about art. It can help with schoolwork. Doing art can make you comfortable, then when you go back to class you're still comfortable."
If you would like to refer your child for Art Therapy or to find out more information, please contact Mrs Hodder or Miss Sorrell on the Pastoral Team.