GANF pupils receive 'Child of Courage' Awards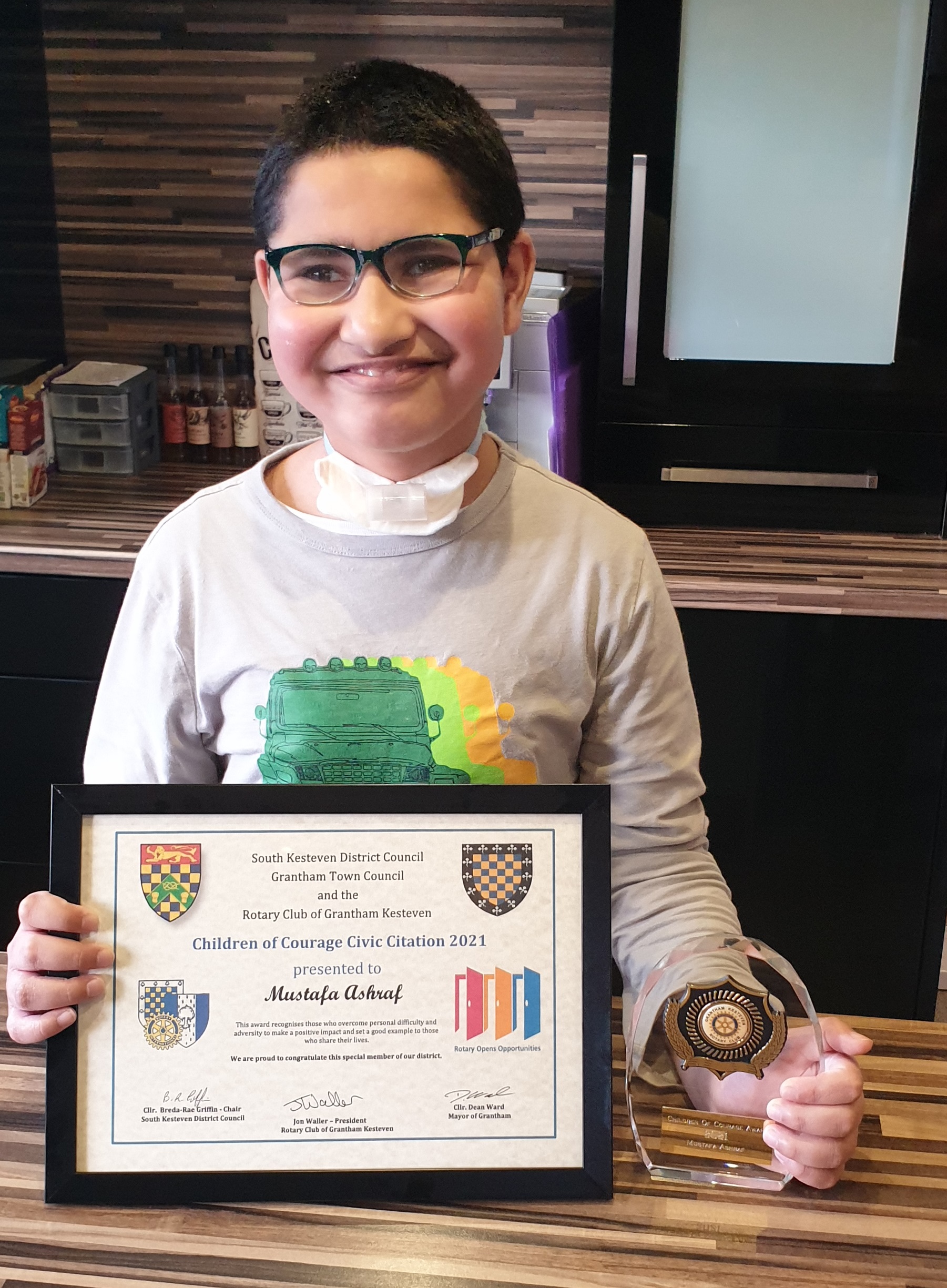 As a school we are always excited to receive an invitation to attend the annual Children of Courage Awards, hosted by the Grantham and Kesteven Rotary Club.  The award's purpose is to recognise children who have demonstrated courage, despite the odds, in overcoming physical, economic, social disabilities or impairment (mental or physical). GANF took pride in nominating a pupil from Ambergate to receive the award and Mustafa, from Sandon.
The ceremony was held on Wednesday 10th March 2021 via Microsoft TEAMS, and was a wonderful event full of inspiring stories and some very emotive and heart felt speeches. It was lovely to see these brave children receiving the recognition they truly deserve. The event began with an opportunity to meet and chat with fellow nominees, Rotary Club members and special guest Paralympian Sam Ruddock. Following this, each of the staff members representing the nominees gave a speech, then a certificate and a trophy was presented to each child.
Mrs Jordan, Learning Mentor, attended alongside pupil A to receive the award, and she said: "This pupil is a delightful young woman to teach in school and is a conscientious person. She is a hard worker and perseveres through tasks she may find difficulty with. She has shown great amounts of courage since the pandemic in March 2020. She has experienced remote learning, face to face learning with staff and 1:1 sessions with trusted adults to support her understanding of what is currently going on. Despite moving to a new class in September and transitioning with new staff, she has faced this head on and enjoys smiling and laughing within her class bubble.  She enjoys colouring, playing with her friends and listening to music in the classroom too."
Our Head of School, Mr Caress said: "This pupil has shown an incredible level of resilience throughout what has been, a challenging 12 months for all children and young people in education. She has faced bubble closures and lockdown restrictions leading to remote learning from home. Despite the huge levels of uncertainty and multiple enforced changes, she has applied herself admirably and worked to the very best of her ability at all times. I am so impressed with the dedication, commitment and enthusiasm she has shown. I am immensely proud and delighted that she is being recognised for her level of courage. Therefore, I am delighted to share that she is a recipient of the Child of Courage Awards from our school family".
Miss Otter, Instructor, attended alongside Mustafa to receive his award: "Mustafa is a very happy boy who has an infectious smile. He has a great sense of humour and loves making staff laugh by pulling faces and using his iPad to say funny things. He has had many hospital visits which means he has sadly missed a lot of school. Despite not being able to attend school since March last year, he is enthusiastic in TEAMs sessions but he is always ready to learn, is very focused and determined to catch up with his peers. He is very hardworking and motivated to reach his targets and always asks for extra work to challenge himself even further. He likes finding work tricky and will persevere until he can complete the task. He loves to chat to his friends at school and likes to teach them new Makaton signs. He was rewarded by being our Class Makaton Champion and loves to demonstrate his signing to all the other children in school during assembly. He uses toys in the classroom to cheer up peers when they are sad. On their birthdays, he chooses to make cards and banners in the classroom to make his friends feel special. He is very friendly and is good at helping his friends and likes to take on a caring role. He is very thoughtful and will help them to find resources or things they may need in the classroom. He is becoming so independent and cheeky when he doesn't want help. He is very proud of his religion and loves to share his thoughts and feelings with us and will educate us, especially with different foods he thinks we should try. He has challenges to overcome but that doesn't stop him giving everything his best effort. We are very proud to have Mustafa as part of our Sandon School family and are very happy to present him with this award."
Mustafa's father said: "Mustafa was so happy, and we were very proud of him too. He is such an inspiration. A huge thanks from the sponsors in organising the wonderful gifts and their generosity. Also, a big thanks to GANF for taking such excellent care of Mustafa. It's like his family and home away from home."
As all recipients were unable to attend the event at the Urban Hotel as usual due to COVID restrictions, everyone received many gifts and donations as part of their award including muffins from The Muffin Top, a new Peter Rabbit pencil case and a gift set from Grantham Gingerbread. We are all so proud of their achievements and want to congratulate them for this award!