All weather play at Sandon!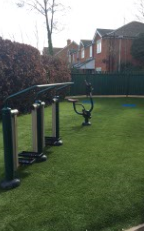 Sandon School has a lovely outdoor area near their sensory garden that was often not used to its full potential. 
Our older pupils recognised a need for outdoor gym equipment to enable them to exercise in their break times in the fresh air. 
This was installed and loved and used by the upper school pupils. Unfortunately, the ground works were not up to withstanding the footfall in the bad weather, the area was often left sodden and very muddy after the rain. 
Thanks to funding from The Grantham Rotary and FOSA (Friend of Sandon and Ambergate) we have now been able to install suitable surfacing. 
The area was officially opened last week, and the pupils are thrilled with it. 
Mrs Freestone, Sandon staff member said, "Sandon pupils and staff would like to thank The Grantham Rotary & FOSA and all their supporters for the funding to install artificial grass in the upper school outdoor play area. This has made a huge difference and means the children can now use their outdoor exercise equipment all year round."