Child of Courage Awards 2023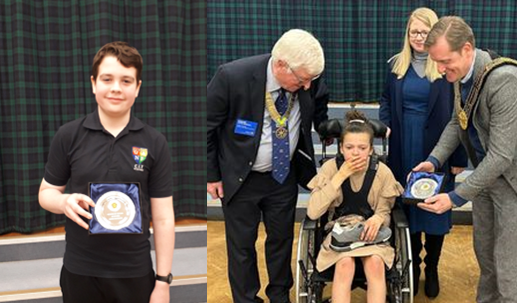 As a school, we are always excited to receive an invitation to attend the annual Children of Courage Awards, hosted by the Grantham and Kesteven Rotary Club. The award's purpose is to recognise children who have demonstrated courage, despite the odds, in overcoming physical, economic, social disabilities or impairment (mental or physical). GANF took pride in nominating pupils from both Ambergate Sports College & Sandon School.
The ceremony was held on Wednesday 8th March 2023 at Walton Academy in Grantham. It was an amazing event full of inspiring stories and some very passionate and heartfelt speeches from a range of nominees. It was lovely to see these brave children receiving the recognition they truly deserve, and be recognised for how much courage and resilience they have shown. The event began with an opportunity to meet and chat with fellow nominees, Rotary Club members and special guest Paralympian Sam Ruddock. The nominees had an opportunity to go and sit in a meeting with Sam, to discuss their interests and become acquainted. Following this, nominated GANF staff members gave a speech, then a certificate and a trophy were presented to each child.
Mrs Gardner, Teacher from Ambergate, attended, alongside George Claremont from Silverstone class, to receive his award. George represented the school well alongside his proud family members.
In her speech whilst presenting the award to the chosen nominee, Mrs Gardner said:
"Before joining Ambergate in September 2021, George had not attended a formal setting in a number of years and now he remains a dedicated full-time pupil who engages in all aspects of his curriculum, extending his learning and representing his class across the school. George is a polite, caring and dedicated young man who always strives for excellence in his studies. Throughout his time at Ambergate, he has worked extremely hard to build positive relationships with trusted adults at school and continues to develop his strategies when overcoming his worries and frustrations. He has shown so much tenacity, diligence and resilience when regulating his emotions and overcoming obstacles he has faced. The Ambergate team are incredibly proud of this young man and are delighted he has been recognised for his hard work. George continues to demonstrate what it means to be a child of courage".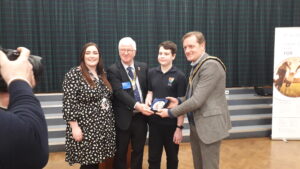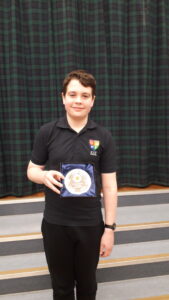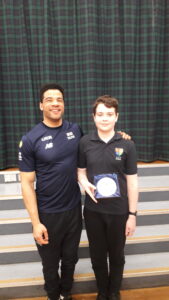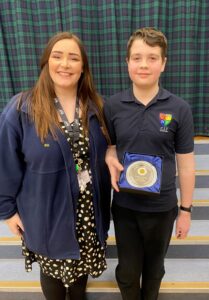 Kate White, Deputy Headteacher from Sandon, attended with Lucie Morris from Pine class to receive her award. Lucie also represented the school well alongside her proud family members.
Lucie's nomination for the award was as follows:
We nominate Lucie for the child of courage award as she is a child that has persistently demonstrated strength in the face of adversity. Approaching all hurdles in her life with curiosity and determination.
Lucie is a 12-year-old pupil at the Grantham Sandon School. Lucie is a happy go lucky child that has consistently demonstrated resilience through all challenges presented to her. Lucie has overcome multiple adverse situations throughout her life especially in recent months. Lucie has continually bounced back from ill health, multiple surgeries and mobility issues. Lucie brightens up a room with her cheeky personality and inquisitive nature. She thoroughly enjoys spending time out in the community while at school, exploring nature and the world around her. Despite all of the mountains she has to climb Lucie is a pleasure to be around and continues to exceed all expectations.
Congratulations to all the nominees and thank you to Grantham and Kesteven Rotary Club for organising the event.