Dale completes marathon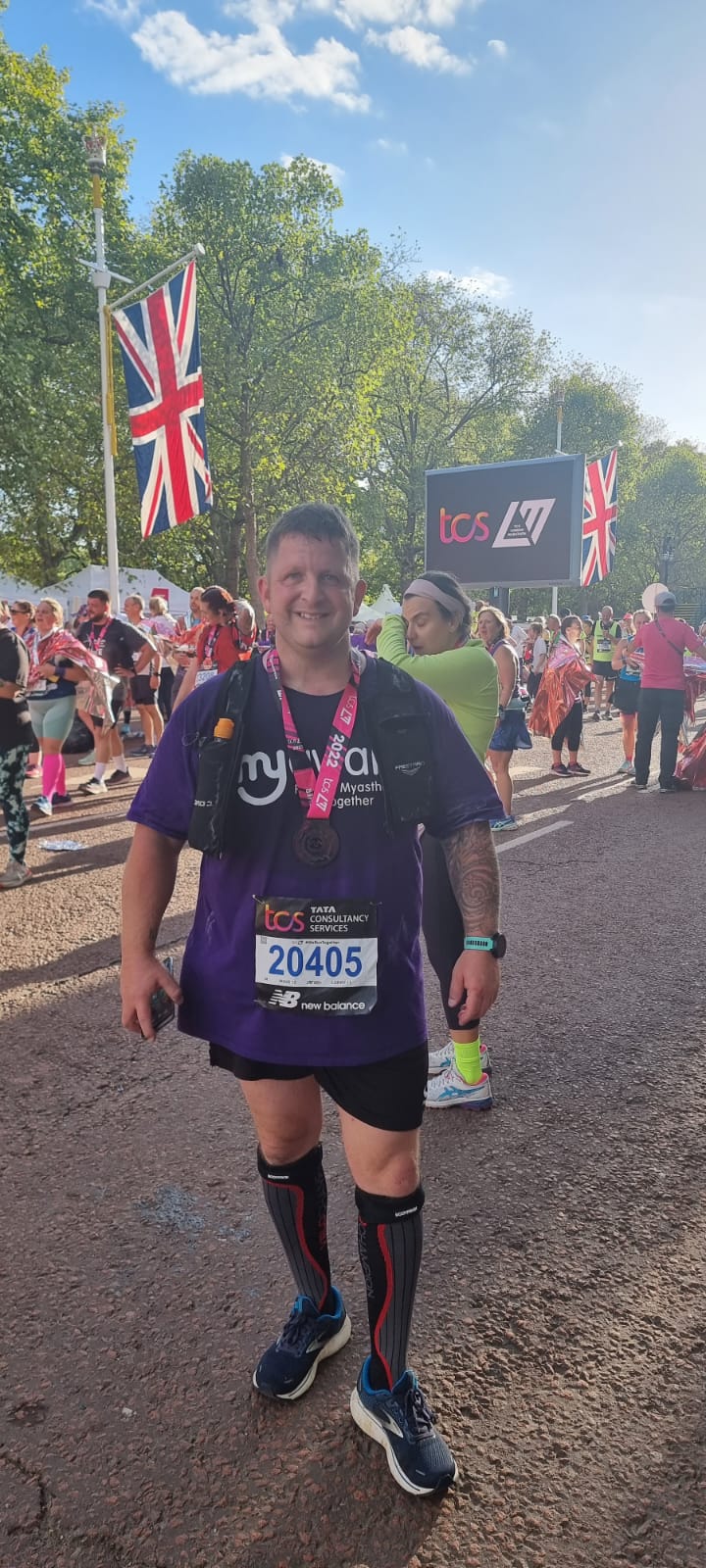 Dale is a member of FOSA (Friends of Sandon & Ambergate). He is married to Rebecca and one of their children, Charlie, attends Ambergate.
Dales wife (Rebecca) was diagnosed with Myathenia Gravis in February 2021 – a rare long-term condition that causes muscle weakness, most commonly affecting the muscles that control the eyes and eyelids, facial expressions, chewing, swallowing and speaking.
The diagnosis came as a shock and staff at Addenbrookes Hospital said they had never seen a patient with such a severe case.
By the month of April that year, Rebecca was in and out of hospital in severe crisis undergoing various treatments, infusions and even spent 10 days in a coma at one stage.
Dale was looking after Rebecca, the kids, working full time and supporting Rebecca's own business.
To make things even worse, Rebecca lost her mum in the April of 2021 to illness we can only imagine the rough period they went through as a family.
Each hospital stay lasted about 3 to 4 weeks with only 2 weeks at home in between. Rebecca underwent surgery during Christmas 2021 at The Royal Papworth Hospital in Cambridge to remove her thymus gland.
Dale said:  
"This has changed our lives forever and we have had to adapt our lives (and house) to cope. We will not be beaten though, we are both members of Myaware and actively promote the awareness of Myathenia to help educate others the best we can from our experience."   
Dale wants to raise awareness and funding by doing something he loves. A huge well done to Dale!
If you would like to support Dale, please follow the link below:
https://www.justgiving.com/fundraising/dale-copson-cd7e60c5-2430-4a8a-866e-007c1cd35884?utm_source=copyLink&utm_medium=fundraising&utm_content=dale-copson-cd7e60c5-2430-4a8a-866e-007c1cd35884&utm_campaign=pfp-share&utm_term=7f6e72dfb0b04d26bc74f3c94d61d1b8