A visit to the 'Demon Dentist'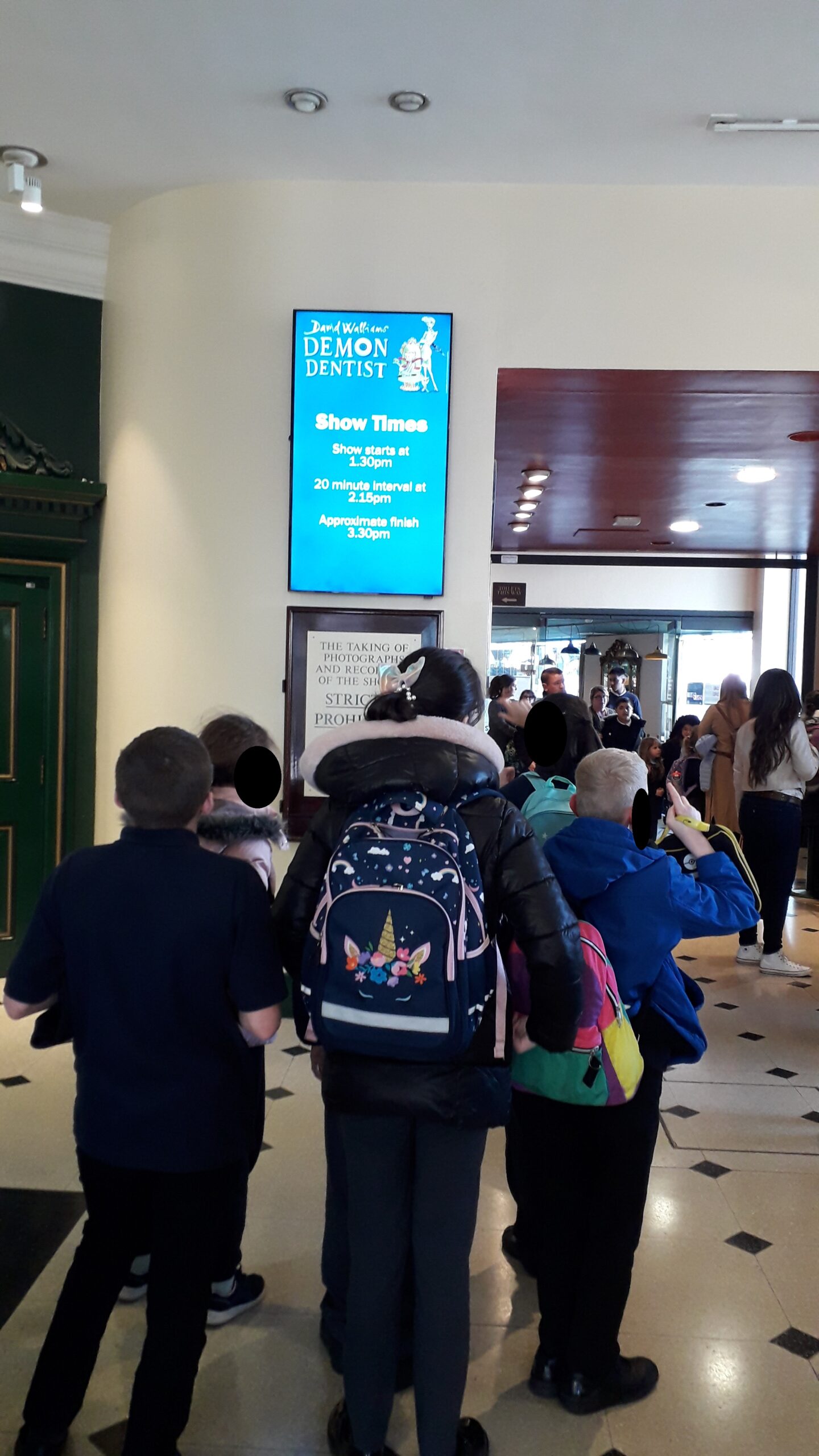 On Thursday 20th April, some pupils from Ambergate Sports College had the opportunity to visit the Theatre Royal in Nottingham to watch the touring production of 'Demon Dentist', based on the children's novel by David Walliams.
As part of their individual targets set by the Virtual School, pupils were able to access the wider community with supervision and develop their life skills throughout the day.
The pupils travelled 45 minutes by train from Grantham Train Station to arrive at Nottingham. They walked through Nottingham City Square to arrive at the Cornerhouse, ready for lunch. Eating their lunch at TGI Fridays, pupils ordered their meals and drinks themselves. This ranged from fish fingers, tomato pasta, and chicken strips, which were thoroughly enjoyed by all!
They then walked across the road to arrive at the Theatre Royal ready for the matinee performance. Sitting close to the front with excitement, the pupils waited with anticipation for the Demon Dentist to start.
They were introduced to a boy called Alfie, who hated going to the dentist, and his family. Strange things started to happen in the dead of night. Children put a tooth under their pillow for the tooth fairy, but in the morning, they woke up to find weird things including a dead slug, a live spider, or hundreds of earwigs that crept and crawled beneath their pillow. The children booed when Miss Root, the Demon Dentist, came on the stage!
During the interval, the children all enjoyed an ice cream. Everybody had a chocolate ice cream, apart from Kieran, who had a strawberry ice cream. They enjoyed eating this during the second half of the performance and watching how the story drew to a conclusion. The children thoroughly enjoyed the performance and would love to go to the theatre again!
They then travelled 45 minutes by train back to Grantham Train Station and Mr. Maltby picked them up to go back to Ambergate. The pupils were very excited to tell him about all of their adventures from the day and to tell the grown-ups about all the fun they had!
Mr. Buckberry, Teacher with TLR Duties and SENDCo, said: "The day was thoroughly enjoyed by all, and we would love to continue facilitating days like this for our pupils, to access wider experiences, which will be part of their memories! I would like to thank Miss Sheardown for coming with us to enjoy the day with the pupils, Mrs. Jordan for organising the day and supporting the pupils on a regular basis, and providing them with the tools and techniques to prepare them for life after school, and to the Virtual School for providing the funding to support pupils' experiences in the wider community and providing school support on a regular basis."