GANF support the NHS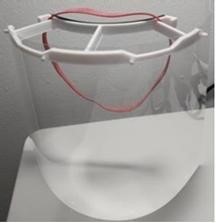 Back in April Sandon School were approached by The Education Team on behalf of Rolls-Royce who were making face visors for NHS Hospitals and front-line Health Care staff during the COVID-19 crisis.
There brief was simple, they were looking for donations of transparent, unused, A4 sheets (e.g. acetates) that could be used to make the transparent visors.
Sandon School searched their stocks and found that they had binding covers they could send to Rolls Royce to support their request.
Fast forward to August and the school were absolutely thrilled to receive a letter of thanks directly from Rolls Royce, for Sandon School's support.
Jonathan Watson, Chief Manufacturing Engineer, Civil Technology and Future Programmes wrote:
"I am writing because I consider you to be part of our face visor supply team and now that face visor manufacturing has finished, I wanted to update you on what happened and where we ended up. 
The team was inside and outside of Rolls-Royce, including partners, families, contacts made specifically during this work, suppliers, county councils and schools.
You have all done an amazing job!  In just a few short weeks, you have delivered over 28,000 face visors worldwide!  This includes over 25,000 in the UK and over 18,000 in the East Midlands region!
These weren't just from Rolls-Royce 3D printers but local clusters including, or exclusively, home 3D printers too.  Face visors have now been delivered to Hospitals, Drive through Testing Centres, Care Homes, GP Surgeries, Pharmacies, Physio's, Vets and Primary Schools.
The detail of what you delivered was incredible, whether it was making visor frames, assembling visors, organising and delivering acetates, supplying 3D printer filament, coming up with innovative designs or supply chain solutions.
It is really inspiring to see a team who have never met in person, really pull together in such a short time to deliver the objective.  I now have enough anecdotes to fill a book and it has been one of the most challenging, jaw dropping and inspiring times in my career, so thank you for that.
One day, when it is safe, it would be great to meet up. With the extended team, we will need a football field to do it and the age range will extend from about 4 to 80.  I will leave the last word to three Nurses who sent a message taped to their aprons …"Thank you so much for helping to keep us safe."